OverviewPPTPartnersResources MobilisedProgramsAchievementsDonate
TRANSFORMING PHILANTHROPY
To Channelize Donations from Charity to Empowerment
One of the main aims of 3rd Generation Philanthropy is to channelize Donations from Charity to Empowerment. This illustrious concept of COVA is already gaining much currency in the social development sector. With the slogan "To Make Poverty History", 3rd Generation Philanthropy is going ahead with a rapid pace.
While 1st Generation Philanthropy involves direct donations to the needy in the form of cash/kind.  This concept can make recipients dependent on the donors and doesn't make people self-reliant or empowered.
2nd Generation Philanthropy involves indirect giving by donating to organizations providing Education, livelihood etc. This concept makes people self-reliant through capacity building. This concept has been followed by many donors and organizations alike.
3rd Generation philanthropy promotes and supports organizations to provide Awareness and Facilitation (A & F) to diverse marginalized sections of our society. COVA enables people –especially the poor, to successfully access all government schemes worth lakhs of crores each year.
The government of India is allocating large budgets for social development but many are not aware of the schemes and the funds are being underutilized drastically, organizations like COVA educates people about schemes, facilitates the applying process, advocates with the authorities, which ultimately enables people's access to resources. This concept has a high probability to transform lives of the poor to make poverty history.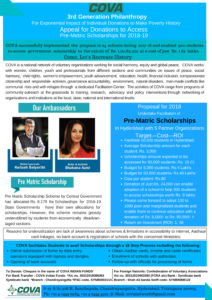 Partner Organization

 

South Zone
East zone
Central Zone
West Zone

North Zone

Focal Organization

COVA

9959517766

MSI

9330989075

APSA

040-27504359

MARI

9885889577

U-FERWAS

9885774480

Partners

ARYA SAMAJ

9849560691

CONARE

9866292342

ASRITHA

9951265101

GSSS

9849064309

DSS

9704709555

ATHMA

9490115709

PUCAAR

9959517766

BVM

9701550229

ICAN

9959517766

SUPER

9553801555

N. N Welfare

9346340315

DWUTS

9951764811

CHATRI

9030211189

Youth for Better Telangana

950590004

KRIYA SANGH

9347010276

TVS MPS

9392499590

JANANI

9391263933

POW YOUNGISTAAN

9885342224

WOW

9100555240
COVA has been able to mobilize Rs. 7 lakhs from 19 individuals for 3rd Generation Philanthropy programs for the year 2017 – 18.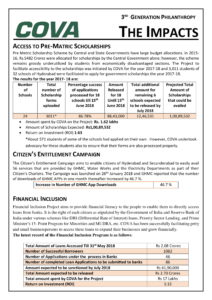 CASE STUDY ON PRE-MATRIC SCHOLARSHIPS: FROM DISAPPOINTMENT TO HOPE:  ENABLING POOR STUDENTS TO SECURE GOVERNMENT SCHOLARSHIPS
Danish is a student of 8th standard at Jamia Darul Huda Hyderabad. His father works a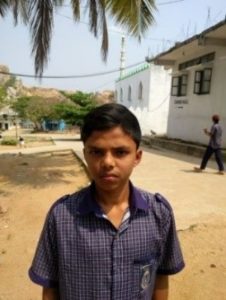 s a washer man in the same school he is studying at. Last year Danish applied for a scholarship through an agent where he had to pay Rs. 200 for uploading his application at the national Scholarship Portal. He did not receive any message and could not get the scholarship during 2016-17. Danish said that "disappointed at not receiving the scholarship despite spending over Rs 250 for agent's fee and documents my parents thought it is a waste of money and time and were not planning to apply for scholarships again".

But in 2017-18 COVA facilitated the online uploading of his scholarship form on the National Scholarships Portal free of charge and followed up with the authorities. His application is approved and transfer of scholarship amount to his bank account is expected any time now.


CASE STUDY ON CITIZENS ENTITLEMENT'S CAMPAIGN: STUDENTS ACCESS CIVIC SERVICES FOR SOCIETY AS RESPONSIBLE CITIZENS
Ghousiya Yasmeen, Tabassum Sultana, Ayesh Omar & Zaheda Kulsum, all girl students of Hyderabad Mission High School, undertook a Project Work on accessing civic services from Greater Hyderabad Municipal Corporation (GHMC) as assured by the Citizens Charter. This was part of the Compassionate Citizenship and Responsible Activism Program being implemented by COVA in 80 schools of Hyderabad and the Citizens Entitlements Campaign of COVA to enable people to access civic services from different government departments.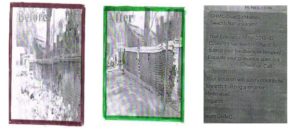 The students researched about responsibility and range of services offered by Greater Hyderabad Municipal Corporation (GHMC) and the time frame within which each of these services is to be offered as part of the Citizens Charter. They also learned about the different ways for registering their complaints and grievances like mobile App, call centers, Facebook, email etc.  They did a field survey to identify issues that need attention and decided to file a complaint about littering and a pile of garbage lying uncleaned in Shakeer Gunj near their school. They downloaded the GHMC app and submitted their grievances with the department for which they received an acknowledgment detailing their complaint number, name and number of the concerned officer and the time frame within which the issue will be addressed.
The pile of garbage was cleaned up by GHMC within 30 hours of the complaint and they received another message saying that the complaint is addressed and if they have any issues or dissatisfaction, they can reopen their complaint again.
One of the students Tabassum Sultana said that the "major learning for them was about Citizens Charters, the functions of GHMC, the time frame in which the complaints have to be resolved, different modes for registering complaints and also how important it is for every citizen to participate and contribute to keeping their environment and city clean".
These twin programs of COVA viz. Compassionate Citizenship and Responsible Activism and Citizens Entitlements Campaign, when brought together, enabled students to learn the possibility of being responsible and active citizens and the benefits to society at large and for their own confidence building and self-satisfaction.


CASE STUDY ON FINANCIAL INCLUSION: WOMEN POWER TO THE FORE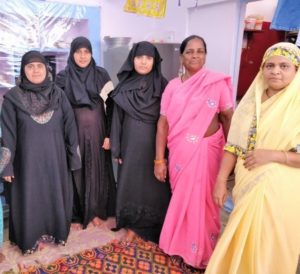 Fahmeeda Begum, Vazeer Bee, Raziya Sultana, Shabana Begum, Parveen Begum and Raziya Begum, aged between 29 and 40 years, are engaged in different businesses like tailoring, Karchob and Bangle Making. COVA facilitated them to take loans from State Bank of Hyderabad under the DRI (Differential Rate of Interest) Scheme with just 4% interest per annum and through the Group Guarantee system that does not require any collateral.
Each received a loan of INR 15,000 in 2014 that they successfully repaid within time and got a second loan for INR 30,000 under the MUDRA Scheme that was also repaid by all of them without delay. Now they have applied for the third round of loans for Rs. 50,000 each and State Bank if India has sanctioned the loans. The loan amount is already released for Ms. Fahmeeda and others are expected to get sanctioned amounts in the first week of April 2018.
One of the borrowers, Fahmeeda Begum, aims to expand her wholesale business of making and selling fancy bangles and start a shop in Laadh Bazaar, the main bangles market of Hyderabad. The husband and wife also participated in Reserve Bank of India's "Artisans Event-2014: Empowering with Collateral Free Loans" and showcased their products
COVA- Bank Account Details: For Indian and Foreign Donations
Legal Permissions for Receiving Contributions from Foreign and India Nationals and Bank Account Details
COVA is registered as a Society under the Andhra Pradesh (Telangana Areas) Public Societies Registration Act 1350 Fasli (Act I of 1350 F) with Registration No. 643, Dated: 20-07-1995.
COVA is also registered with the Government of India under FCRA (Foreign Contributions Regulation Act) with Registration No: 010230426, dated 18-02-2000 and is authorized to receive foreign contributions in its Bank Account at Syndicate Bank as per FCRA Regulations.
COVA also enjoys tax exemption status Under Section 80 G of Income Tax Act of Government of India and all donations to COVA by Indian Nationals in Indian Funds Account can avail 50% Tax Exemption.
COVA is an accredited charity with NASIM Foundation, a North America based non-profit 501(c)(3) secular, non-political organization (Tax ID: 03-0605701) So donations by American citizens to Nasim Foundation for support for the work of COVA for education will be entitled to tax benefit / deductions in the US. Please visit the NASIM Foundation Website at: http://www.nasimfoundation.org/cova.aspx
COVA also receives funds from the Government of United States of America for its programs and is registered with the US Federal Government's System for Award Management (SAM) and allotted the Number: 864029450/SUD11 and DUNS Number: D-U-N-S 186-402-9450. Hence, donors in America and other countries can send their donations to the foreign funds account of COVA without any hesitation. 
All foreign nationals including persons of Indian origin but holding passports of other countries are requested to send their donations to the following account:
For Donations by Foreign Organisations and Nationals including PIOs to COVA Account Title
CONFEDERATION OF VOLUNTARY ASSOCIATIONS Account No.
3031 201 0063285
Account Type- Savings Bank
Name- Syndicate Bank
Branch- Shah Ali Banda
Address- 20-4-194/7, Near Asha Talkies, Shah Ali Banda City
Hyderabad State Andhra Pradesh Country India
IFSC Code- SYNB0003031
SWIFT Code- SYNBINBB122
MICR Code- 500025032
Branch Code- 3031
We request all Indian Citizens and organisations to send their donations to the following Account:
Account Title- COVA INDIAN FUNDS
Account No.- 30312010086363
Account Type- Savings
Name- Syndicate bank
Branch- Chandrayangutta, Hyderabad
IFSC Code- SYNB0003114
Contact Details of Contributors:
Maintaining contact details of all donors and contributors is mandatory. As our valued Collaborator and Contributor, we request you to kindly provide the following information for our records:
1. Full Name
2. Postal Address
3. Contact Numbers
4. PAN Card No. if available (for Indian nationals)
5. Email ID (optional)