Citizen's Entitlement Campaign
To Enable Citizens to Access Civic Services
3rd Gen Philanthropy: A Brief Introduction
Third Generation Philanthropy: From Charity to Facilitation that COVA has initiated to bring about attitudinal transformation in individual donors to channelize their donations from giving charity (First Generation Philanthropy) or providing services directly (Second Generation) to Third Generation Philanthropy that involves support to Facilitating Organizations to enable people to access the monumental resources allotted by the Central and State Governments for different projects in the social sector but remain grossly underutilized.
The Project
Introduction of Citizens' Charters: Many departments of the Central and State Govt. have formulated Citizen's Charters binding them to prompt and efficient delivery of services. The GHMC, HMWS&SB and TSSPDCL have also adopted Citizen's Charter. However, most citizens are not aware of these Charters, different services offered, time frames and modalities for lodging requests and complaints and so are generally deprived of the 56 essential services that are to be delivered by these departments.
The Citizen's Entitlements Campaign is part of the 3rd Generation Philanthropy Initiative of COVA. The Campaign has achieved a phenomenal increase of 46.7% in download of GHMC App by members of the public. Pamphlets were distributed and general public was encouraged to download Mobile Apps and lodge their grievances and complaints with concerned departments for the 56 services offered by GHMC, Water Works and the Electricity Departments as part of their Citizen's Charters. Data received from GHMC for the months of December 2017 and January and February 2018 illustrates the impact of the Citizens Entitlements Campaign as follows:
Achievement

The Citizens Entitlements Campaign was launched on 26th January 2018 on the occasion of 69th Republic Day of India under the Theme 'Let's Celebrate Citizenship'. About 400 networks, organisations and groups across twin cities who had organised Flag Hoisting Functions also spoke about the Citizens Entitlements Campaign during the functions and distributed pamphlets and assisted participants to download the Mobile Apps. The range of places covered included slums, colonies, schools and events like the Hyderabad Literary Festival and the All India Industrial Exhibition (Numaish) where 50 to 80 thousand people attended each day.
Over 40,000 pamphlets in Hindi, English and Urdu were distributed during the different flag hoisting celebrations and people were encouraged to download the Mobile Apps and make calls to call centers to register their grievances. Links to GHMC, HMWS&SB, TSSPDCL respective Citizen's Charter on COVA Website were included and inaugurated by the GHMC Commissioner Mr. Janardhan Reddy who also released the pamphlets, posters and standees of the campaign.
Objectives
The objective of the Citizens' Entitlements Campaign is to enable citizens of Hyderabad and Secunderabad to easily avail 56 services that are provided by GHMC, Water Works and the Electricity Departments as part of their Citizen's Charters.
The aim is to engage communities in large numbers to bring out civic problems being faced by the people and thereby speed up the process of petitions and implementation of Citizen's Charter and enable GHMC to take steps for their resolution. 
Process
Orientation for Partner NGOs- Introduction of Citizen's Entitlement Campaign

Volunteers and Staff are briefed about the campaign and GHMC, HMWSSB & TSSPDCL mobile applications.

Live problem/issues are identified in the locality/area.

Complaints are registered on the spot via app and complaint registration number is received via text message.

Follow up if the complaint is resolved or not.

If the complaint is not resolved within the stipulated time period, another complaint is registered

Street campaigns are conducted with NGO staff and volunteers to spread awareness about the process of filing complaints and different modes of complaints.

In case of no smart phone- landline numbers to lodge complaints are shared.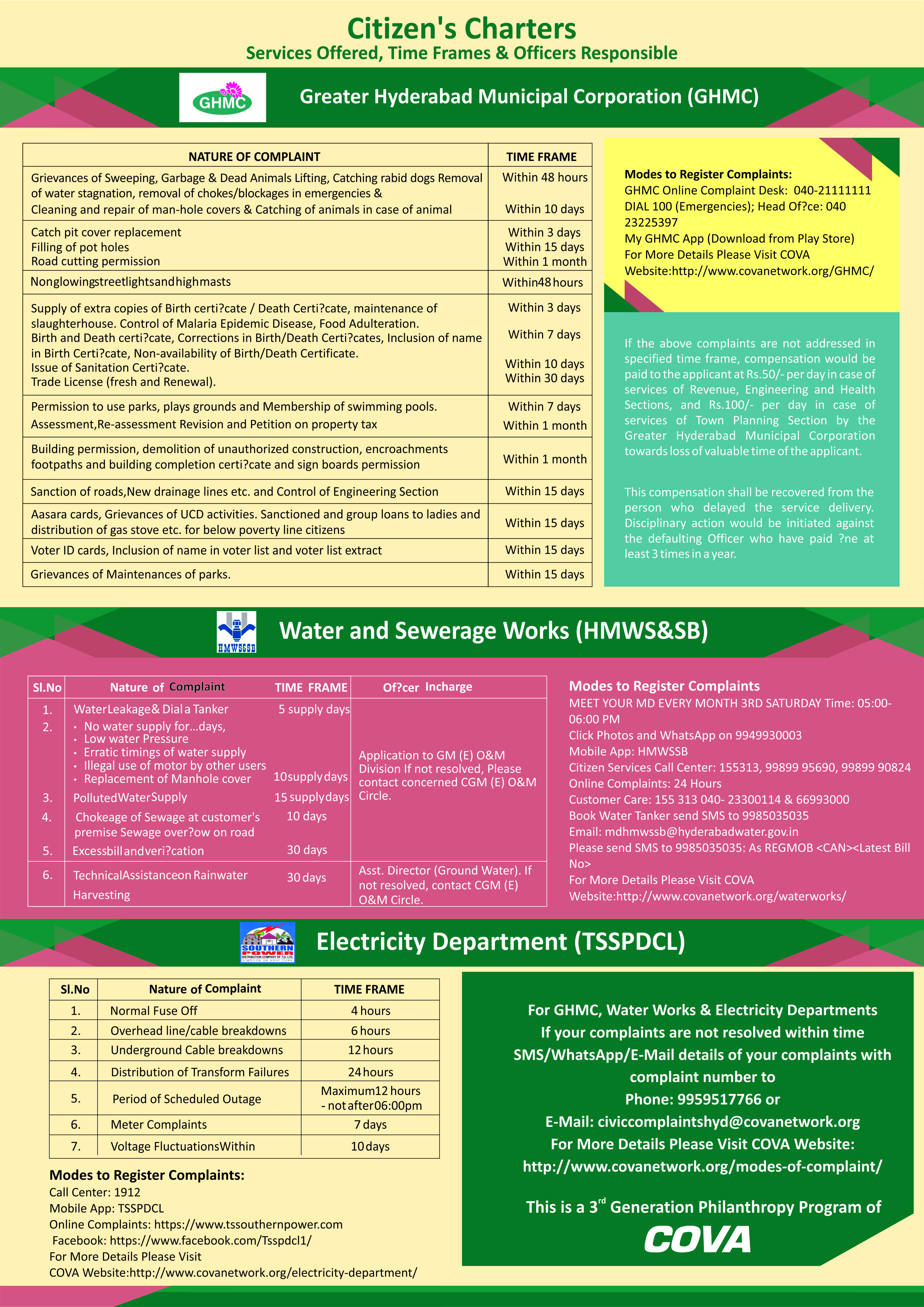 Activities
Awareness Campaigns in localities, Padyatras and Rallies, Street Corner Meetings, Distribution of Pamphlets, Display of Posters, Wall Paintings, Mobile Audio– Visual Publicity etc.
Links inaugurated on covanetwork.org web portal to Download information on GHMC, Water Works and Electricity Department