FINANCIAL INCLUSION
An Introduction
Ministry of Finance, Government of India and the Reserve Bank of India stipulate that all public sector and private banks in India should give 40% of all their loans to the poor and middle sections of society under the Priority Sector Lending Program . Of this 1% of the loans should be given to petty entrepreneurs below poverty line under the DRI (Differential Rate of Interest) Scheme that was introduced by the Government of India in 1974. The DRI loans are up to Rs. 15,000 at a nominal rate of interest of only 4 % per annum. But all banks during the past 44 years have given only 0.02% under the DRI Scheme instead of 1% as stipulated. To address such exclusion of the poor, COVA initiated the Financial Inclusion Project in 2014 in association with State Bank of Hyderabad and Syndicate Bank to enable poor and lower middle classes to access Bank Loans under the DRI and MUDRA Schemes.
Financial Inclusion Program
COVA started the Financial Inclusion Project in 2014. The objective of the project was to provide financial literacy to the people to enable them to directly access loans from banks. It is the right of each citizen as stipulated by the Government of India and Reserve Bank of India under various schemes like DRI (Differential Rate of Interest) Loans, Priority Sector Lending, and Prime Minister's 15-Point Program for Minorities and MUDRA, etc.
COVA started a Pilot in Hyderabad city with 15 branches from State Bank of Hyderabad and Syndicate Bank joining in 2015 and so far COVA has been able to secure loans for 941 persons from both these banks with disbursal of loans amounting to ₹ 182,98500. The number of loans sanctioned varied from case to case ranging from ₹ 15,000.00 to ₹ 100,000.00. The beneficiaries being from the different sections of society, the following table displays the community diversity of the project.
| | | | | | | |
| --- | --- | --- | --- | --- | --- | --- |
| BC | SC | ST | OC | Muslim and OBC | Jain | Sikh |
| 31.83% | 8.9% | 0.45% | 6.97% | 49.94% | 0.44% | 1.47% |
A pilot was also started in Karimnagar District in 2016 and loans amounting to ₹ 16,10000 were disbursed to 103 small entrepreneurs till 28th February 2017 with a remarkable repayment rate of 99.6 % despite demonetization in November 2016 . Hence, a total of Rs 182, 98500 is disbursed to 941 borrowers from the banks as part of COVA's Financial Inclusion Project.
COVA facilitates the poor & middle classes to access bank loans and ensures proper repayment through the following Seven Step Process:
Identification of Partner Organization

Community Meetings

Identification of credible borrowers

Group Formation

Facilitating preparation of forms and documents

Submission in Banks and release of loans

Ensuring Repayments
| | |
| --- | --- |
| Amount of Loans sanctioned till date | Rs.1,82,98,500 |
| Number of loans sanctioned in February | NIL |
| Repayment percentage of February | 93.23% |
| Number of persons who received loans | 982 |
Impact
The program succeeded in helping 958 borrowers in Hyderabad and Karimnagar to access loans worth Rs. 2.2 Crores with a repayment percentage of 99.7% till September-October 2016.
After demonetization in November 2016 and merger of State Bank of Hyderabad with State Bank of India in May 2017, the repayment process suffered to touch 96.5% but in the last three months is picking again and is expected to reach the earlier figure in the next three months.
Case Study:
Imran had been running a business of printing for a decade when he came across the loan facility for micro and nano entrepreneurs. He got in touch with COVA and was guided to apply and receive a loan for INR 15,000 in 2014. He repaid the loan within 30 months and  now plans to take another loan for INR 2,00,00 -2,50,000 to buy an advanced printing machine. The first loan helped him expand his business and gain more orders of printing. He wishes to develop his business further by using the printing machine with better resolution and printing speed.
Objectives
The basic objectives of the project revolve around imparting financial literacy to women and men from the marginalized and minorities engaged in petty businesses and micro entrepreneurship so as to enable them to obtain loans from banks. The project also focuses on the repayment of the loans taken so that further loans can be secured.
Activities
The activities undertaken were outreach to communities in association with partner NGOs and CSOs to conduct community Training on financial literacy in the city of Hyderabad. We ensured that there was adequate participation from different communities and the project attained gender parity.

The credibility of the business of the borrower was the key parameter to identify the beneficiary, further the financial inclusion team assisted the beneficiary to complete the process of filing the application form by ensuring all required documents are obtained and attached.

A group of 5-6 members was formed as group guarantee to facilitate easy and flawless approval of loans and to facilitate follow up for repayments.

Extensive follow up with the respective banks in the area was taken up to ensure the loans are released in time.

The borrowers were followed up on a regular basis to ensure that the loans are repaid properly. The barrowers who have paid their earlier loans were facilitated to obtain next loans with enhanced credit limits.
Proposals &Programs for 2018
Number of Bank Loans to be accessed – 100 at Rs 30,000 per loan on average amounting to Rs. 3 crores

Ensuring proper repayment of loans already taken by 1000 borrowers — Rs. 62,28,500

Enable the poor to access OD of Rs. 5000 from banks – 1000 persons – Rs. 50 Lakhs

Total amount of Loans to be serviced — Rs. 4,12,28,500

Financial Inclusion  Awareness Meetings in Localities-60

25 Participants in  each Awareness  Meetings-1500 Entrepreneurs

Budget for the Year 2018- 27 Lakhs

Cost per loan accesses or serviced — Rs. 900

Return on Investment — 1:152
CASE STUDY: WOMEN POWER TO THE FORE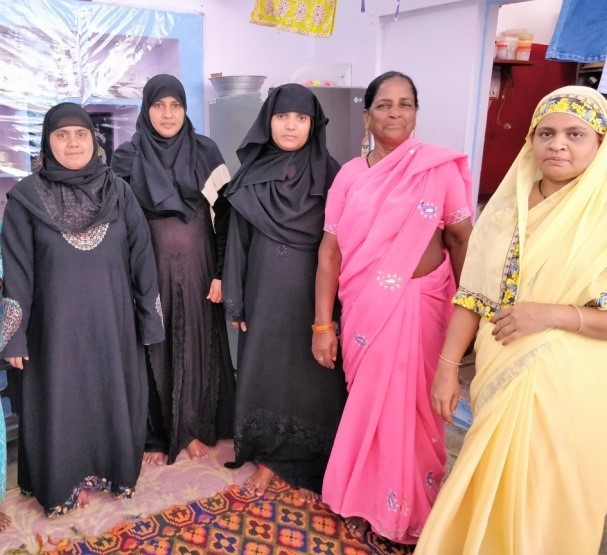 Fahmeeda Begum, Vazeer Bee, Raziya Sultana, Shabana Begum, Parveen Begum and Raziya Begum, aged between 29 and 40 years, are engaged in different businesses like tailoring, Karchob and Bangle Making. COVA facilitated them to take loans from State Bank of Hyderabad under the DRI (Differential Rate of Interest) Scheme with just 4% interest per annum and through the Group Guarantee system that does not require any collateral.
Each received a loan of INR 15,000 in 2014 that they successfully repaid within time and got a second loan for INR 30,000 under the MUDRA Scheme that was also repaid by all of them without delay. Now they have applied for the third round of loans for Rs. 50,000 each and State Bank if India has sanctioned the loans. The loan amount is already released for Ms. Fahmeeda and others are expected to get sanctioned amounts in the first week of April 2018.
One of the borrowers, Fahmeeda Begum, aims to expand her wholesale business of making and selling fancy bangles and start a shop in Laadh Bazaar, the main bangles market of Hyderabad. The husband and wife also participated in Reserve Bank of India's "Artisans Event-2014: Empowering with Collateral Free Loans" and showcased their products that were also inspected by Mr. Raghuram Rajan, the then Governor of RBI.
Vazeer Bee, another member of this group of five, says the biggest benefit for her from the loans was that the increased earnings helped her for her daughter's marriage and now her daughter also wants to learn and support the business).  "Main apne beti ki shadi kar paayi iss loan ki suvidha se aura meri beti bhi yeh kaam seekhna chahti hai"
All the women shared that they felt a sense of dignity reviving in them since they could bear their own expenses and also supplement their family incomes that makes them feel empowered.
COVA
Advocacy Success in Financial Inclusion:
Government of India Accepts Eight Recommendations from – Critical Review of Financial Inclusion in G 20 Countries with Focus on India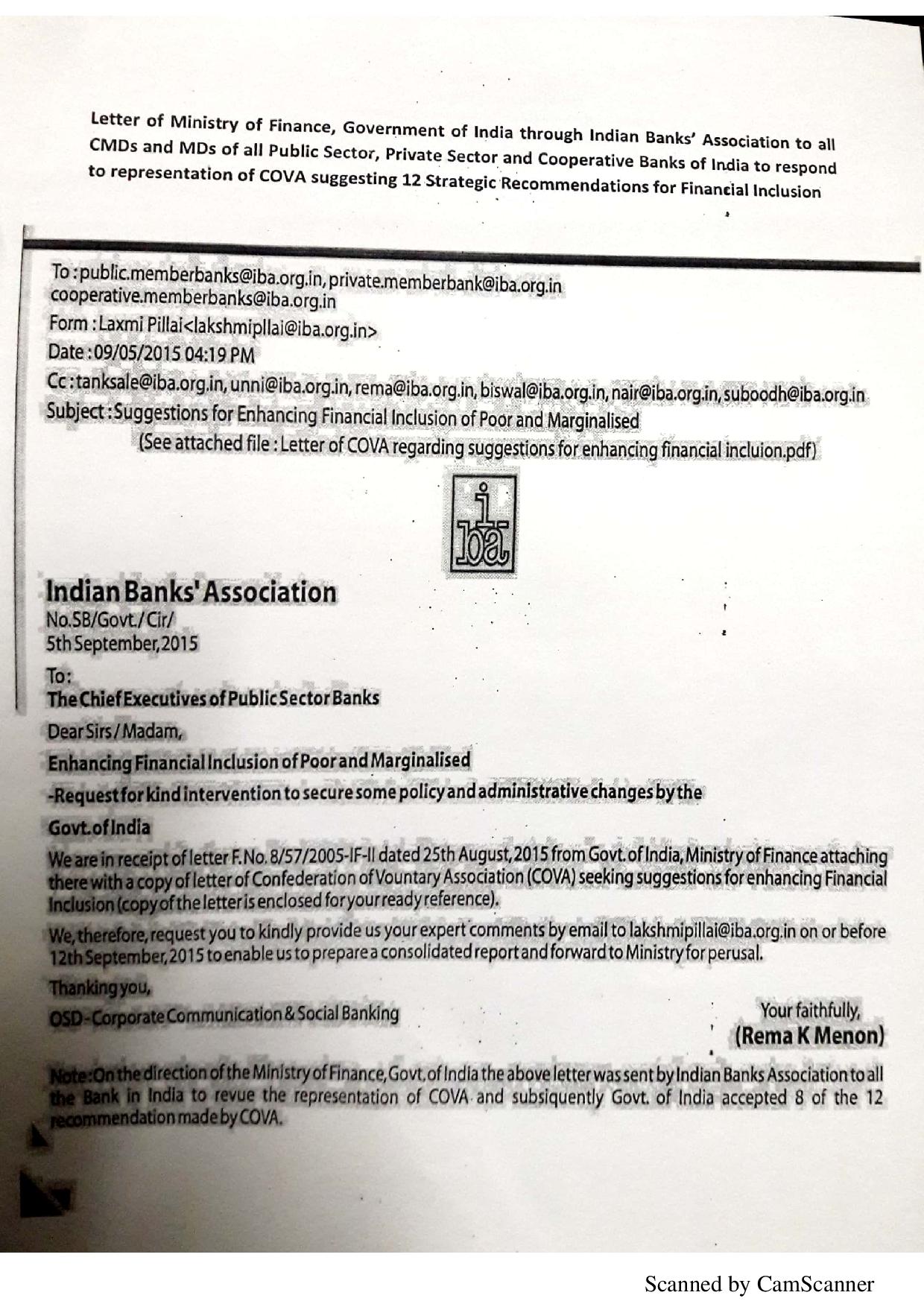 COVA had undertaken a Study titled "Critical Review of Financial Inclusion in G 20 Countries with Focus on India" that was published in October 2013 with Dr. Mazher Hussain, Executive Director of COVA and Director of State Bank of Hyderabad as the Research and Advocacy Lead and with support from VANI and Heinrich Boll Stiftung. The Study explored the status and issues of financial inclusion in all the G20 member countries, identified good practices in different countries and carried an in depth analysis of financial inclusion in India to identify key specific issues and formulated twelve recommendations to ensure genuine financial inclusion in India.
The Study can be accessed at: http://www.vaniindia.org/publicationpdf/pub2jan15.pdf
Thereafter, COVA in partnership with civil society organisations, made sustained representations for financial inclusion and the Twelve Recommendations from the Study to Union Ministers, Members of Parliament and bureaucrats and finally the Ministry of Finance forwarded the Representation of COVA containing the twelve recommendations based on the Study to the RBI and Indian Banks Association (IBA) the apex body of all banks in India. IBA in turn forwarded the Representation of COVA along with the cover letter of Finance Ministry to the Managing Directors of all the Public Sector, Private Sector and Cooperative Banks in India for their expert opinion and feedback on the suggestions made by COVA. Copy of the letter of IBA to the banks is attached.   
­­­­­­­­­­­
Consequently, eight of the twelve administrative and policy recommendations by COVA that have been considered and are being incorporated by the Government of India in different policy formulations are:
Single Page Application Forms for small loans

Issue of receipt by banks for loan applications- Single Page Form with Receipt can also be downloaded from the website of the Department of Financial Services (DFS) at the following link: http://financialservices.gov.in/PMMY%20Form.pdf

3)Revision of loan limit for petty business under DRI from 15,000 – now the loan limit is up to Rs 50,000 under the Shishu Scheme of MUDRA

Revision of Income Limit of Rs 18,000 for Rural and Rs. 24,000 for urban areas to qualify for petty loans- GoI has now removed the income criteria for availing loans under MUDRA

Over Draft facility of Rs. 5000 to the poor to meet emergencies- OD facility of Rs. 5000 announced under the Jan Dhan Scheme

Assigning and mandating individual bank branches to attain targets

Using Post Offices as Banking Correspondent to enable people to deposit and withdraw funds from their bank accounts

Waiving of condition to procure No Dues Certificates from 8 to 10 neighbouring banks.  
This could enable financial inclusion and help petty and small businesses to access credit from banks and approximately 9 crores (90 million) hawkers, petty traders and micro enterprises across India can benefit provided these provisions are implemented properly. 
A Caution and Further Stipulations Required for Implementation in the Field:
However, there should be no complacency and assumption that credit would be made available easily to the poor as it is seen that despite the new policy formulations and opening of millions of bank accounts for the poor through Jan Dhan Yogana, there is great resistance from bank managers in the field in advancing loans to the poor.  Hence, in order to ensure genuine and guaranteed financial inclusion and access to bank credit for the poor the following Eleven Stipulations would also be necessary:
Online applications in all banks for DRI and MUDRA loans as is available for other loans

Notification and implementation of Turn Around Time (TAT) for processing of loans for Online and Paper Applications to ensure transparency and accountability of bankers

Intimation of reasons for rejection of loan applications

Proper Publicity for Loan Schemes and Conditions

Statutory Monitoring of Loan Disbursal and Related Complaints by Top Management: Currently banks monitor a range of deposit and withdrawal related services being offered to costumers

Incentives and Disincentives for Bank Officers: Though Bank wise targets for sanction of loans are being given, there seems to be no mechanism for incentives or penalizing managers and field officers for their performance.
­­­­­­­­­­­­
Concerns of Bankers for Recovery:
History shows that most loans given for social uplift of the poor are being perceived as those that need not be paid back and in many cases they end in default. Consequently, bankers are reluctant to lend all such loans that appear to and have consistently proved to be risky. These concerns can easily be addressed by:
An Act of Parliament to prohibit any announcement of waiver of loans except in cases of declared National Calamities

Group guarantee schemes for accessing loans to provide for peer pressure for repayment

Linking of all loans under MUDRA and DRI to mechanisms like Credit Information Bureaus viz. CIBIL, CRIF High Mark etc to track defaults to prevent future loans for defaulters and encourage proper repayments for continued access to credit.

Introduction of Bank Deposit Cards, like the Mobile Recharge Cards that could enable people to purchase these Deposit Cards of small denominations from 50 to 500 rupees from any of the shops in their vicinity to enable a cheap and cost effective mechanism for enabling daily repayments that best suit petty traders and hawkers and can ensure creation of financial history visible to bankers and optimal repayments.

The Last Mile Connect: Involvement of NGOs and CBOs who would consult the communities for identification of petty business persons and entrepreneurs with credibility for advancing loans. This could reduce the workload of bankers in processing of loans and ensuring repayments by more than 80 percent. COVA has initiated this program in Hyderabad in collaboration with State Bank of Hyderabad and Syndicate Bank and with an average monthly repayment of 99.7%.