MEGA EVENTS
Bharat Yatra
For 'Surakshit Bachpan, Surakshit Bharat
(Safe Childhood, Safe India)
Led by Nobel Peace Laureate Mr. Kailash Satyarthi
11th September 2017 to 16th October 2017
Nobel Peace Laureate Mr. Kailash Satyarthi has launched Bharat Yatra from KanyaKumari on 11th September 2017 with the call for 'Surakshit Bachpan, Surakshit Bharat (Safe childhood, Safe India). The Bharat Yatra would conclude on 16th October 2017 at New Delhi after covering 22 states of India. This Bharat Yatra is being organised as part of 'The 100 Million for 100 Million Campaign' being led by Mr. Kailash Satyarthi globally to involve 100 million youth and children in good living conditions to work for and protect 100 million children worldwide who are subject to various forms of exploitation and abuse.
The Bharat Yatra reached Hyderabad in the evening of 20th September 2017 and The Telangana Organising Committee for Bharat Yatra comprising 35 organisations along with many associates from civil society, religious organisations and business groups organized Programs on 20th and 21st September 2017.
COVA served as the Secretariat for the Telangana Organizing Committee for Bharat Yatra.
Overview of Programs appended as Annexure I.
Report of Public Meeting at Hyderabad
21st September 2017
The Public Meeting organized in the morning of 21st September and addressed by Kailash Satyarthi Ji had participation of over 3,500 children, youth, activists, media persons and eminent personalities including Dr. K. Keshav Rao, Mr. B. Vinod Kumar, Mr. K. Vishweshwar Reddy – Members of Parliament spoke and pledged their support to the mission of Bharat Yatra for safety, security and empowerment of children. The highlight of the Public Meeting was the Interfaith Declaration of Action by Faith Leaders of six different religions for Protection and Empowerment of Children.

Handing over of the Declaration by Faith Leaders to Kailash Satyarthi Ji and Dr. Keshav Rao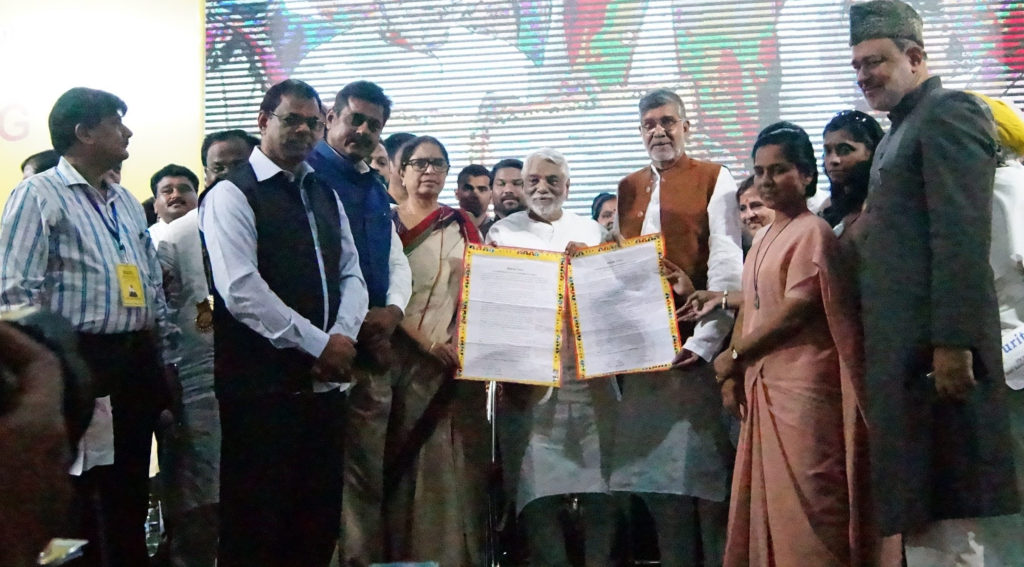 Annexure I
Briefs of Other Programs
20th September 2017 –
5:30 pm:    Reception of Bharat Yatra and Candle Light Marc from Aram Ghar Airport Road, Hyderabad. Facilitated by PRAJWALA, Divya Disha, MSI and Others.
8:00 pm

:   
 Reception Dinner for Bharat Yatra and Qawwali Program at Salarjung Museum Hosted by COVA, Helping Hands Foundation and MESCO.
21st September 2017 –
8.00 am

:
    Breakfast with Business Leaders. Facilitated by DiSRUPPt, SAHE and others.
9:30 am:   Flag off of Rally from Mouzam Jahi Market to Exhibition Grounds. by Mr. Nayani Narasimha Rao, Home Minister, Government of  Telangana and Ms. Amala Akkkineni, Film Star and Animal Rights Activist Facilitated by APSA, MAHITA and others.
10:00 am to 12:00 noon:     Public Meeting at Exhibition Grounds Facilitated by all partner organizations. Anchored by COVA, Aman Vedika, MY Choices and  Youth for Better Telangana.
12.30 pm to 2.00 pm

:
    Lunch Hosted by the Speaker of Telangana Legislative Assembly and attended by two Deputy Chief Ministers, five Ministers, three Members of Parliament, Mayor of Hyderabad, many members of Telangana Legislative Assembly and Council, bureaucrats and members of civil society and media. Facilitated by COVA.
2.00 pm to 3:00 pm

:
    Awareness Program on Child Abuse and Empowerment at Ravindra Bharati organized by Department of Women Development and Child Welfare, Government of Telangana.
3:00pm to 4:30pm

:
    Prayers for Peace between Pakistan-India-China and in the World at Charminar by leaders of 8 different Faiths. This is part of Peace Now Champaign initiated by COVA in partnership with organisations in India and Pakistan. Prayers were organized across India and Pakistan – Hyderabad, Delhi, Meghalaya, Lahore, Karachi and other cities and towns of India and Pakistan. Due to traffic jam in Charminar area Kailash Satyarthi Ji could not reach the venue of prayers and had to turn back. Facilitated by COVA, MSI and Interfaith Forum.



5.45 pm to 6.30 pm

:    Meeting with the Chief Justice and Judges of Telangana and Andhra Pradesh High Court. Facilitated by PRAJWALA and others.



6:00pm to 7.45 pm

:    Dhum Dham: Cultural Events of Telangana at Sundaraiah Vignan, Hyderabad. Facilitated by MV Foundation and others.



8.15 pm to 10.00 pm

:    Talk on "Leveraging 3rd Generation Philanthropy for safety and empowerment of children" organized by YPO (Young Presidents Organisation comprising of heads of Top Corporate bodies in Hyderabad.  Facilitated by COVA.
Detailed Reports of all Programs will be shared separately.
Bharat Yatra Telangana Programs : Partner Organizations
ACTION AID, AMAN VEDIKA, APSA, ARYA PRATINIDHI SABHA,  BALYA MITRA NETWORK, CARING CITIZENS' COLLECTIVE CHATRI, CHILD WELFARE COMMITTEE, COVA, DiSRUPPt, DIVYA DISHA, DON BOSCO, 
Helping Hands Foundation
, IICD, INTER FAITH FORUM, MAHITA, MESCO, MONTFORT SOCIAL INSTITUTE, MV FOUNDATION, MY CHOICES FOUNDATION, PRAJWALA, SAHE, SANKALP FOUNDATION, TELANGANA PARENTS ASSOCIATION, WORLD VISION, YOUNGISTAN, YOUTH FOR BETTER TELANGANA
 and others.
Women Development and Child Welfare Department, Government of Telangana
Department of Juvenile Welfare Correctional Services and Welfare of Street Children
4G Identity Solutions, Adil Metals, BAJAJ, Doordarshan, iCatch, Oakridge International School, PAYTM, USM, ZEE
Report Prepared by:
Mazher Hussain
For Bharat Yatra, Telangana Organising Committee
And Executive Director, COVA