2010-2011
COVA in collaboration with Fredrich Ebert Stiftung and MICCI (Goa) organized a National Seminar on Ethics in Journalism on 5th  February at Hyderabad. Media scholars, journalists, academicians and political leaders participated and made presentations. Prof. Abdur Rahim, former Head, Department of Communications and Journalism, Osmania University, Hyderabad, was felicitated on the occasion for his exemplary contribution to the field of journalism.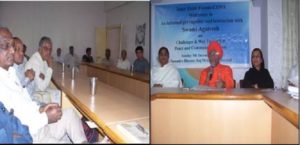 Mr. Rashad Hussain, Special Envoy of USA to the Organization of Islamic Conference (OIC), visited COVA on 4th August 2010 and participated in an Interfaith Meeting.
On 9th April 13 Delegates of South Asia Peace Alliance (SAPA) at COVA
Pro-Anna Rally
 2011-2012
Children of Refugees participating in Jalebi Race.
Dr. Mazher Hussain, Executive Director, COVA taking orientation session for teachers
Internee students from University of Kashmir interacting with Mr. A.K. Khan, IPS, Commissioner of police Hyderabad at a program of US Consulate at ASCI.
Mr. Amin Jafferi, MLC awarding gifts and mementos to the Little Citizens
Religious Leaders from Interfaith Forum-COVA on a visit to affected places of worship
Sanjhi Virasat Yatra, Ayodhya to Hazrat Nizamuddin Darga
Youth Parliament at full swing with jam pack auditorium of Vanitha Mahavidyalya
2012-2013

On 16th November 2012, COVA convened a planning meeting of Peace Activists to address the deteriorating communal situation in Hyderabad

3rd National Convention against Politics of Terror was organized in Hyderabad on 13th January 2013 under the banner of People's Campaign Against Politics of Terror

Representatives of CSOs participating in Dilsukhnagar Blast Condemnation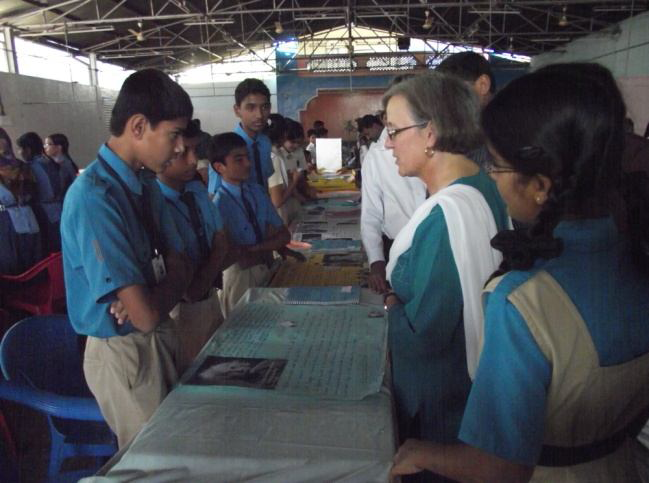 Ms.Catherine Dhanani, US Consulate General inspecting Project of Children
2013-2014
Bringing together Communities: Representatives of Seven Major Religions at COVA Interfaith Forum Meet
Mazher Hussain, Executive Director of COVA facilitated trainings programs in Pakistan on the Theme of "Understanding and Addressing Communal and Sectarian Violence: An Exploration". These training programs were conducted in Lahore, Islamabad and Karachi between 10th and 18th February 2014 in which 85 activists and representatives of development organizations of 25 districts from the provinces of Punjab, Sindh, Baluchistan and Khyber-Pakhtoonkhwa participated.
Play by Tehreek-e-Niswan, Pakistan at Ravindra Bharathi, Hyderabad.
Students at Program for Display of Project Works on Social Issues.
Students and Youth participating at the Memory Walk organized by ARDSI.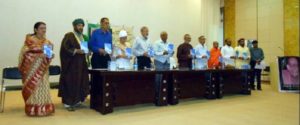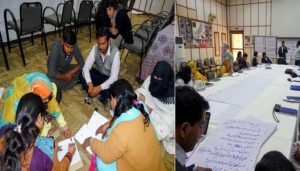 Odissi dance performance by Pakistani troupe
2014-2015
COVA also works for enrolment of refugee children in schools; organises cultural programs and sports events for recreations; provides Monthly Ration Support to 110 destitute refugee families through Adopt A Refugee Program.
Monthly Ration and cash distribution to handicapped, single mothers, orphans.
SAMBANDH 2015: 13th Annual Inter Schools & Inter College Competitions to remember Hiroshima and Nagasaki Atom Bomb Holocaust.
Student Competition