The Pre-Matric Scholarships Scheme and COVA Facilitation: A Report
The Prime Minister's New 15 Point Programme for the Welfare of Minorities and other communities was announced in June, 2006. It provides that a pre-matric scholarship scheme for meritorious students from minority communities would be implemented. Pre-Matric Scholarship Scheme by Central and State governments have large budget allocations. In 2015-16, Rs.5482 crores were  allocated for scholarships by the Central Government alone, however, the scheme  remains grossly underutilized by students from economically disadvantaged sections. 
Reasons for under-utilization are lack of awareness about schemes & limitations in accessibility to internet, Aadhaar card linkages, not having a bank account & registration of schools with the concerned Ministries.
Access to Pre-Matric Scholarships Program
COVA facilitates students to avail these scholarships by enabling them to access the following services without any cost to the student and parent: 
Obtain Aadhar cards, income certificates, caste certificates etc.

Opening of bank accounts

Enrollment of schools with the concerned departments &

Online submission of forms by data entry operators equipped with laptops and dongles.

Follow up with the schools for verification of the applications uploaded on the portal.

Follow up with the State Nodal Officer of the National Scholarship Scheme.
As stated earlier, COVA facilitated 2500 students from 32 schools to apply for government scholarships with the help of donations of Rs. 1.62 lakhs during the year 2017-18. The scholarship amount are being released by the Government and it is expected that the students will get scholarships worth Rs. 75 lakhs at an average of Rs. 3000 each.
It is proposed to scale up the program from 2018-19 targeting at least 30,000 students to avail scholarships worth about 9 crores.
Objectives:
The scholarship at Pre-Matric level will encourage parents from minority communities to send their school going children to school, lighten their financial burden on school education and sustain their efforts to support their children to complete school education. The scheme will form the foundation for their educational attainment and provide a level playing field in the competitive employment arena. Empowerment through education, which is one of the objectives of this scheme, has the potential to lead to upliftment of the socio-economic conditions of the minority communities.

COVA aims to support at least 20,000 students from deprived backgrounds to file online applications for Pre Matric scholarships of the Government of India and the Government of Telangana to enable students to collectively access amounts amounting about one crore.
Pre Metric Scholarship Scheme by Central and State Governments have large budget allocations. In 2015-16, Rs.5482 Crores were allocated for scholarships by the Central Government alone; however, the scheme remains grossly underutilized by students from economically disadvantaged sections. The Project to facilitate accessibility to the scholarships was initiated by COVA for the year 2017-18 and 3,011 students of 32 schools of Hyderabad were facilitated to apply for government scholarships the year 2017-18.
The results for the year 2017- 18 are:

Amount spent by COVA on the Project: 1.62 lakhs
Amount of Scholarships Expected: Rs1,00,89,532
Return on Investment (ROI) 1:63
*About 571 students of some of the schools had applied on their own. However, COVA undertook advocacy for these students also to ensure that their forms are also processed properly. 
Proposal for 2018
Undertake facilitation of Pre-Matric Scholarships in Hyderabad and 5 adjacent districts of Telangana with 5 Partner Organisations.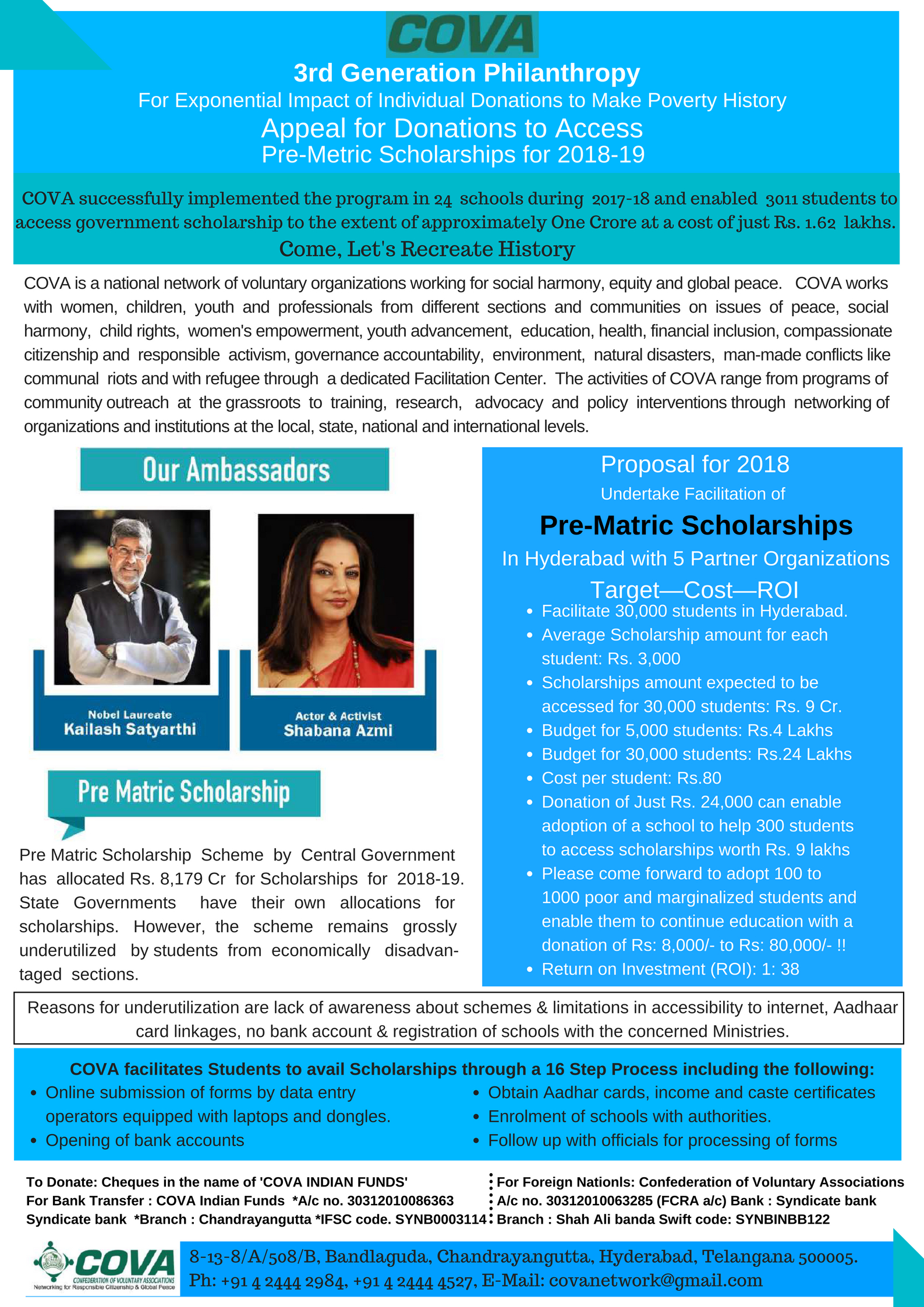 Aligned with UNDP's Sustainable Development Goal's (SDG's)
COVA follows UNDP's Sustainable Development Goal's and strives towards achieving its targets for a sustainable and just society. Here are the SDG's which we follow for 3rd Generation Philanthropy's Pre-Metric Scholarships.
CASE STUDY: FROM DISAPPOINTMENT TO HOPE:  ENABLING POOR STUDENTS TO SECURE GOVERNMENT SCHOLARSHIPS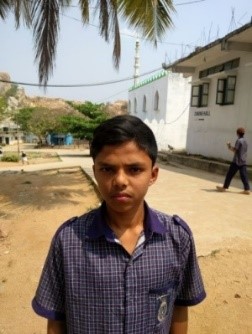 Danish is a student of 8th standard at Jamia Darul Huda Hyderabad. His father works as washer man in the same school he is studying at. Last year Danish applied for a scholarship through an agent where he had to pay Rs. 200 for uploading his application at the national Scholarship Portal. He did not receive any message and could not get the scholarship during 2016-17. Danish said that "disappointed at not receiving the scholarship despite spending over Rs 250 for agent's fee and documents my parents thought it is a waste of money and time and  were not planning to apply for scholarships again".
But in 2017-18 COVA facilitated the online uploading of his scholarship form on the National Scholarships Portal free of charge and followed up with the authorities. His application is approved and transfer of scholarship amount to his bank account is expected any time now.
Happy to share that COVA was able to get the last date for online uploading of Pre Metric Scholarship forms extended from 30th September 2018 to October 2018 by making representations to the Principal Secretary Government of Telangana and Secretary, Ministry of Minority Affairs, Government of India who has responded quickly and positively for the extension. Lakhs of students across the country will benefit from this.